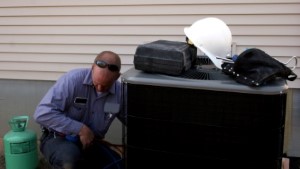 Now that summer has arrived in full, your home's air conditioning system is likely getting a serious workout, but if it has been a while since you've had your system professionally maintained, you could be setting yourself up for disaster. As a responsible homeowner, one of the most important things you can do for your home during the summer months is to ensure that your air conditioning system is getting the care it needs to make it through the coming months without issue, and investing in a professional tune up for your AC is one of the best ways to do so. To help highlight the importance of this particular task, our team of skilled professionals have taken the time to put together this short list that highlights some of the more notable benefits that come along with investing in a professional AC tune up this summer. We invite you to read through this short article and give our team of professionals a call today to schedule your service.
Reduce The Chances Of A Breakdown Occurring
If you and your family, like most homeowners, wind up using your air conditioning system on an almost continual basis during the hot summer months, it is important to recognize all of the strain that use puts on your system. If you haven't been keeping up with proper maintenance for your system, all of this additional strain from constant use can easily start to take its toll, and might even result in a complete system breakdown in the coming months, which can be both time consuming and expensive to resolve. Investing in a professional tune up this summer will ensure that your system isn't being subjected to unnecessary strain that could lead to serious problems in the near future.
Improve System Efficiency
With your air conditioning system in constant use this summer, you need to worry about both the strain its puts on your system, and the effect that strain can have on your system's overall efficiency. The harder your system has to work in order to keep your home cool, the higher your energy bills are likely going to be at the end of the month, and if you don't want to find yourself having to decide between paying your electric bill and buying groceries, investing in a professional AC tune up this summer is one of the best things you can do. During your tune up, our team of professionals will not only ensure that your system is properly cleaned, but we will make sure that everything is working like it should be, and there are no underlying issues that might be causing your system to work harder than it needs to in order to keep your home cool this summer.
Keep Your Warranty Intact
Most air conditioning systems under a certain age likely still have a manufacturer's warranty that keeps them covered in the event that something goes wrong, but did you know that many of these warranties require you to have your system serviced every so often in order to remain valid? With a professional tune up this summer, you can meet your maintenance requirement, helping to keep your warranty intact and giving you peace of mind in knowing that you are covered in the event that something serious goes wrong with your system.
If you are looking for a professional HVAC company in the Wichita Falls area, give us a call today at
(940) 350-4049

or fill out our online request form.

The post 3 Reason You Need A Professional AC Tune Up This Summer appeared first on Mike Graham Heating & Air Conditioning.